Testimonials
A Plus Alarms & Entertainment Systems takes extreme pride in the work we do for our customers. Here is what a few of them have to say.
"About a 18 months ago we embarked on building a new Skiffington home in Moultonborough, NH. As we progressed toward completion, Joe Skiffington strongly suggested we meet Jim Nicholas, owner of A Plus Alarms and Entertainment Systems to put the finishing touches on what has become our dream house. Joe gave Jim and his company high grades and suggested we would not find a better media expert anywhere! If you know Joe Skiffington, that kind compliment and recommendation was enough for us. After meeting Jim Nicholas and personally viewing some of his previous installations we were wowed and now very clear of why Joe was so impressed with Jim Nicholas. Frankly, we were blown away by the technology that could provide an enormous sense of comfort.
As a businessman Jim Nicholas was a pleasure to deal with...knowledgeable, patient, neat, timely and most importantly, he does exactly what he says he will do and he never disappoints! What started as a minor TV purchase turned into a sophisticated security system complete with interior and exterior cameras all accessible from our home in Massachusetts, my office, a car, boat and controllable via I Phone. Once we got past the initial installation we inquired about HVAC efficiency and controls from remote locations..here again, Jim developed a system that provides the capability to control all systems, media, climate, security, lighting, water systems, etc from anywhere in the world! As noted, we entered this process thinking we'd buy one TV and be done with the process; not only did we not buy only one TV, we purchased all of our TV's from Jim. We also have the newest and best central vac system on the market. a security system that has our entire house covered interior/exterior and monitored, a Blue Ray system, an IPod system and a HVAC master system that offers extraordinary piece of mind!
Surprisingly, the costs associated with this entire installation was not only competitive but better than we could have expected. A few additional words about Jim Nicholas, he is sincere, humble, always available and proud of his reputation and simply exceptional at what he does. His people maintain the same high standards. Having a new home and having contractors in and out of your home is sometimes worrisome.......Jim Nicholas not only had complete access to our home, he has our codes and 24 hour access to our entire home today. He kept the entire installation neat and mess free. In fact it was difficult to imagine Jim and his team were ever in our home. As noted earlier, Jim Nicholas is a special young man with exceptional customer focus and sensitivity........if you are in the market for extraordinary customer service, exceptional media, monitoring and entertainment equipment with superb capabilities, A Plus Alarms and Entertainment Systems should be your first and last stop!
It is with enormous appreciation that we highly recommend Jim Nicholas and A Plus Alarms."

Eddie and Candy Albertian
Moultonborough, NH
---
"A Plus Alarms and Entertainment Systems installed a comprehensive system at my house including alarms, external security cameras, lighting control systems, heat & air control and audio/visual systems. I could not be happier. The final product provides me with the capability to control the systems from panels throughout the house and remotely from my computer, IPad and IPhone. I particularly like the security of being able to monitor the critical functions of the house when I'm not there.

Jim Nicholas and his team were great to work with and very knowledgeable about the array of capabilities they installed. I particularly appreciated their willingness to brainstorm with me about some of the unique capabilities I was looking for. Any issues were addressed quickly and at my convenience.

I strongly recommend A Plus Alarms and Entertainment Systems. "

Steve Elterich
Moultonborough, NH
---
"Jim Nicholas and the team at A Plus Alarms & Entertainment exceed our expectations on every house they outfit for us. They are reliable, honest, and up-to-date on a broad range of audio and video product lines and equipment. As a home builder, it is important I refer my clients to top notch companies for everything from electronics to designers. When I refer my clients to A Plus Alarms for their electronic, alarm and entertainment needs, I feel extremely confident that they are in capable hands. Jim and his team always go the extra mile and take excellent care of our clients! !"

Joe Skiffington
President, Skiffington Homes, Inc.
---
"I have had the pleasure of using A Plus Alarms & Entertainment Systems a number of times over the past few years and the service provided is second to none. They really operate a first class company. The customer service is awesome!!! They provide quality, prompt competitive service. I would not hesitate to recommend A Plus to anyone!"

Joe and Liz
Andover, MA
---
"The team at A Plus Alarms and Entertainment Systems did a terrific job with our new house. They helped us decide what kinds of systems fit our lifestyle and our budget. Their prices were very competitive, even with the big electronics stores, when you include all of the accessories and the installation. And being a local company they are nearby if you ever need them."

Bill Glavin
---
"We have built several homes over the years and have worked with no less than six different Alarm and Entertainment companies. Jim and his team are the best I have worked with. Jim keeps himself abreast of the latest technologies and can deliver cost effective solutions at any level.

He has continued to upgrade my system over the years as my needs and interests have evolved. I think the most impressive thing is his incredible support. 5 years later he is always around to answer a question or lend a hand if we have a problem - even when somebody has trouble with a remote, he still stops in to help!"

John Dineen
CEO GE Healthcare
London England

---
"Having worked with Jim and A plus Alarms and Entertainment Systems for the past 8 years, I am continually impressed by the care and dedication they bring to the homes that we build. In the ever changing building trade, especially the alarm and entertainment industry, A Plus Alarms and Entertainment Systems has always been one step ahead with these changes in order to better serve the clients they represent."

Scott Fuller
Scott C. Fuller Development
---
"We are really enjoying the home theatre that was installed by A Plus. The television is crystal clear and the sound from the speakers is amazing. They did a great job. The install was quick and efficient and I feel confident knowing how to use all the equipment, and if I should have any questions or problems, I know I can give Jim a quick call and get the help I need. Thanks Jim!"

Dennis & Helena
Windham, NH
---
"My family and I were looking forward to outfitting our new lake home with everything we'd need to create a great home entertainment experience but we were dreading the process of trying to figuring it all out. A Plus Alarms took the complication out of it and made a complex process seem simple. They made the process seamless to us and were sensitive to our busy schedules and working from long distances rather than us having to constantly be on site. We are delighted with our entire system. Jimmy and his Team were a pleasure to work with and I'd highly recommend them to anyone."

David and Suzanne Sandler
---
"As a Manager within a Municipality, with the responsibility of overseeing multiple accounts and multiple systems, including Burglary, Fire and Panic Alarms, Controlled Access, and Video, I have enjoyed working with a vender that is fully capable of meeting the needs of the various systems within our town's facilities. The staff and management at A Plus Alarms is very knowledgeable in their ever-changing technology field.

Scott D. Kinmond
Highway/Road Agent
Director of Public Works
Town of Moultonborough Public Works
---
"We had been using A Plus for the security system in our old home for about 5 years and when we moved to a new home (with an old security system) we knew that we'd be using Jim and A Plus again. When Jim came to our new home to take a look at the old security system, not only did he add a bunch of new contacts and secured the house even more, he had to fix a large number of issues that the previous owner had left with the old system. It was a labor intensive process as well as being time consuming, but Jim was completely professional the entire time, and did it all with a smile on his face."

Dennis & Helena
Windham, NH
---
"A Plus has become the cornerstone for Intervale Technologies commercial Audio and Video practice. The attention to detail in design, as well as keeping up with the ever changing market place, has allowed my organization to compete and exceed expectations on a range of projects. In a competitive market place, an organization needs to be technically sound, placing the customers first while always maintaining a cost competitive solution… A Plus alarms delivers on that philosophy every time."

Frank Dearborn
Intervale Technologies
---
"We worked with Jim Nicholas and A Plus on both our entertainment and security systems when we built our new home in Meredith a few years ago. When you're starting from scratch you have the luxury of doing anything you want, and Jim gave us lots of great suggestions on how to design our entertainment system, and where to locate TVs and speakers. We still call Jim today when we have a question. He and his team are quick to respond, reliable, and their prices are more than fair. We're pretty sure you'll be pleased if you decide to work with Jim and A Plus."

Kathy & Fred
Meredith
Contact us today to discuss your security, entertainment or control and automation needs.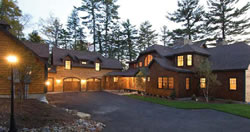 "We get great satisfaction from the work we do. It is both stimulating and rewarding. But our greatest pleasure is in seeing home and business owners with smiles on their faces and hands extended, commending us on a job well done."

Jim Nicholas
A Plus Alarms & Entertainment Systems